Period Underwear - How does it Work?
How does period underwear work? How does it absorb? How much does period underwear really absorb? How will you know which period underwear to choose? And how to clean it in three simple steps.
We have made the full guide just for you, with everything you need to know about period underpants
What is Period Underwear?
Period panties are meant for wearing during menstruation, as a sustainable replacement for disposable products such as pads and tampons. Period underwear can be used as a protecting garment for light and even mild urinary incontinence.
Period underwear looks and feels just like regular underpants, and that is the great innovation! It doesn't feel thick or clumsy despite consisting of numerous layers of absorbent fabric.
How does it work?
Instead of using liners or pads, use underpants that appear ordinary on the outside, but are sewn out of several layers of ultra-absorbent fabric in the absorption area, and made of an exterior leak-proof fabric.
After the use, the underwear can be washed in cold water and then washed. After drying, it'll be ready to be used again.
How much do Period Underwear truly absorb?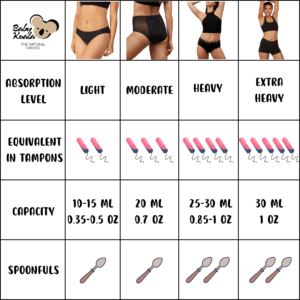 LIGHT FLOW period panties are the equivalent of liners. Usually, these are very light underwear with the capacity of 2 tampons, aka 10-15 ml/0.35-0.5 oz, or more simply – 1 spoonful of liquid.
MODERATE FLOW period panties are suitable for light/moderate menstrual flow, and absorb like 3 tampons, aka 20 ml/0.7 oz or 1.5 tbs of liquid.
HEAVY FLOW period panties are suitable for the first days of menstruation. They're great for the night and can absorb for long hours without needing to be changed. Good for those who suffer from urinal incontinence. Their absorption capacity is the equivalent of 4 tampons, aka 25-30 ml/0.85-1 oz or 2 tbs.
EXTRA HEAVY FLOW period panties are excellent for those who have very intense menstruation, post-partum bleeding, urinal incontinence, and for the night. Their absorption capacity is the equivalent of 5 tampons, about 30 ml/ 1 oz and even more.
Why choose Period Underwear?
Beyond the incredible comfort which makes you feel like you're not even on your period, it is the ideal substitution for all polluting hygiene products.
Starting to use period underwear is not only an ecological decision, but also a, economical one – this is a one-time purchase, to put an end to finding yourself stuck in the middle of the night without tampons or pads.
Do period panties really work?
Yes! They work fantastically well. Look around and you wouldn't believe how many people of all ages did the change and moved to using period underwear.
Period underwear is the new and refreshing substitute for pads, tampons, and any other disposable hygiene product that you know. It's easy to use and clean and will turn your period into just ordinary days.
Can I wear Period Underwear for a whole day?
It depends on your underwear's absorption capacity and your phase of menstruation. Generally, you can wear them all day long during the light and even moderate flow.
If you're new to period underwear and have only used disposable hygiene products up until now, it is recommended to keep track of your flow, know your body better, and choose the desired absorption of your underpants level according to you flow.
During the heavy days, we recommend putting a spare pair of period underwear, in case the bleeding will be extra strong.
During the days of lighter flow, there would be no problem staying with a single pair on for the entire day.
How will I know which Period Underwear I should choose?
Period underwear come in a vast variety of sizes (between XXS and 2XL) and styles (bikini, hipster, high waist, briefs, and even thongs). You can find 4 different absorption levels, starting with very light and up to ultra-heavy absorption.
How many pairs of Period Underwear do I need?
If you're a beginner in the world of period underwear, we recommend trying them out on your lighter days of menstruation and not going straight to use them while your flow is the heaviest.
It is recommended to purchase at least one pair of underwear per each day of moderate or light flow.
For example: if your period lasts 5 days, it's best to buy 2-3 pairs of underwear for heavy or extra heavy flow (depending on your own personal flow), and another 3-4 pairs for light or moderate flow.
Overall, 5-7 period underwear, depending on the quantity of your days of bleeding and the variation of flows.
For all those who suffer from ultra-heavy flow during the night, we recommend considering purchasing an additional pair or two of night-designated period underwear.
How to clean Period Underwear in 3 simple steps
We recommend washing your underpants in cold water at the end of the day. Yes, it's your blood. At the end of the hand wash, the underwear is not yet clean at all. You can hang it to dry until machine-washing. The underwear is black, nobody is going to see bloodstains and there won't be any scents if you follow the washing instructions. And that's for sure!
Pre launder all your period underwear with 60 ml/2 oz of detergent with enzymes. Do not use fabric softener.
Main wash: you choose a long washing program of 40°C/104°F with maximal wringing. You can add washing powder. Do not use fabric softener/vinegar. Line dry in a shaded place.